In a quiet location
Our house are itself 6km away from the center, in the quarter Kleinmünchen. A rapid and favorable combination into the city centre is given by the tram. The stop "Simonystrasse" is in direct proximity of the hotel.

Opening times
The reception is opened Mon-Fri from 6-22 o´clock and Sat, Sun from 6.30-22 o`clock.

Journey from 13 o'clock until the arranged arrival-time. Departure Monday - Friday from 6-11 o'clock, Saturday, Sunday and on public holidays from 6.30-11 o'clock.

Arrivals are possible until 22 o'clock, after 22 o'clock, our reception is closed.
Late-night-arrivals are not possible after 22 o'clock. No night-service.

Please plan, at your arrival possible delays (like traffic jam) one.
To arrive at the hotel as soon as possible.
Car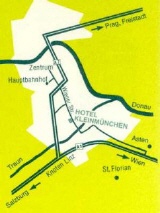 -coming from Vienna lug motorway departure Asten - direction Linz.

-coming from Salzburg, motorway junction Linz - direction Linz - motorway departure Linz/Neue Welt - Salzburgerstraße - Wienerstraße.

-from Prague on the Mühlkreisautobahn motorway A7, exit: Linz/Wienerstraße.

Train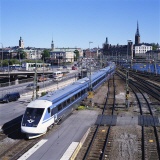 -from the railway station with tram line 1 or 2 direction Kleinmünchen up to the stop Simonystr. (directly before the hotel).